Mucogingival Treatment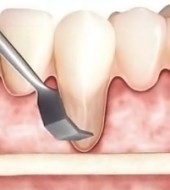 Generally this refers to treatment for better root coverage to correct gingival recession, or receding gums. It can be performed for both aesthetic and health reasons. This improved root coverage is generally achieved by a tissue graft, possibly in conjunction with a frenectomy.
Subepithelial connective tissue graft
Takes tissue from the roof of your mouth using a "trap door" approach, and places it at the area where the root is exposed, using dissolvable sutures. The roof of the mouth is also sutured (stitched), leaving no open areas, holes, or voids. This procedure has the advantage of excellent predictability of root coverage and achieves the best aesthetic results by blending in with surrounding tissue. This procedure is the "gold standard" for treating exposed root surfaces.
Before & After

Free gingival graft
A small layer of tissue is removed from the roof of the mouth and then relocated to the site of gum recession. It is sutured into place and will serve to protect the exposed root as living tissue. The donor site will heal over a period of time without damage. This procedure is often used to increase the thickness of very thin gum tissue.
Before & After

Acellular dermal matrix (such as Alloderm)

In this case, donated, medically processed human skin tissue is the source for the graft. The advantage of this procedure is no need for a palatal donor site, and results can be just as successful as use of a patient's own tissue.
Before & After

Frenectomy
Sometimes a patient's frenulum is structured in such a way that it contributes to receeding gums; in this case removing the frenulum (a frenectomy) can be performed to remove this troublesome tissue and allow for better tissue grafts.
Before & After