Evaluation & Treatment Planning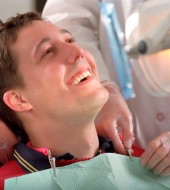 You may have been referred for a periodontal consultation by your general dentist or hygienist if they see signs of periodontal disease during the course of a standard checkup or other dental appointment.  You may also have contacted us on your own due to symptoms such as:
Bleeding while brushing or eating normal foods. This is the most common sign of a periodontal infection.
Ongoing halitosis (bad breath), which continues despite rigorous oral cleaning, can point to periodontitis, gingivitis or the beginnings of a gum infection.
Longer-looking and/or loose-feeling teeth can indicate recession of the gums and/or bone loss as a result of periodontal disease.
Related health concerns such as heart disease, diabetes, osteopenia or osteoporosis.  People with these conditions are often diagnosed with related periodontal infections.
No matter how you came to us, we are here to help your mouth and gums get better.
A great video on periodontal Disease causes and treatment: